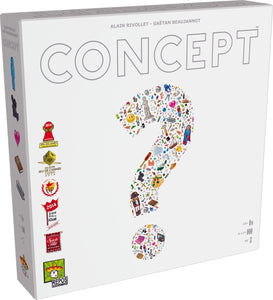 Concept
COMMUNICATE WITHOUT SPEAKING: Discover a new means of communication in Concept, an easy-to-learn, but frequently challenging board game! Make people guess hundreds of objects, characters, and titles by combining universal icons!

INTERACTIVE GUESSING GAME: Using a game board covered in icons that can represent everything from a computer motherboard to the color blue, players attempt to silently convey concepts such as "dinosaur," "Eiffel Tower," or "Sigmund Freud."

TEAM-BASED GAME: The first player to discover the word or phrase receives 2 victory points, the team receives points as well, and the player who ends up with the most points wins. In this flexible and fast-paced party game, the points are less important than enjoying the art of commmunication!

FUN FOR ALL AGES: Easy-to-learn and familiar gameplay allows for players of all ages to enjoy. No two games are ever the same with almost limitless clues and choices to make.

NUMBER OF PLAYERS AND AVERAGE PLAYTIME: This fun party game is made for 4 to 12 players and is suitable for ages 10 and older. Average playtime is about 40 minutes.
---
We Also Recommend